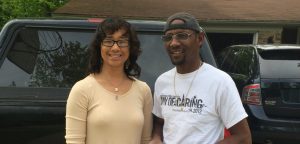 In April of 2012, Leonard and Michelle Wilson decided that their jobs were not maximizing the skills and abilities they had accrued over their lifetime. So, while keeping their full time jobs, they decided to set out and start Elle's Home Services to do just that.
The venture started out small. Their first jobs consisted of mowing lawns for neighbors and members of their church. Through word of mouth, the demand for their services grew. Soon they were mowing lawns for people they didn't know. In addition to expanding their customer base, their current customers were asking them to offer a broader range of landscaping services. It started out with laying down mulch and rocks; next they began to plant flowers; and then they began to clean and build ponds. And the services they offer have continued to develop from there.
According to Leonard, it wasn't until they received their first contract from a property management company that he realized the business could take off. What had started out as a few small jobs was growing into a successful business. All of this growth eventually led them to land their largest landscaping contract to date, the Village of Hanna (the former Eden Green apartment complex.)
But starting a business does not come without challenges. As the size of their jobs got larger, the financial side of their business became more complicated. Working with bigger businesses, they have learned repayment for their services can be a slow process, causing a major tightening of cash flow.
This is where the Brightpoint Development Fund has been able to help. Through the small business loan program, Leonard and Michelle have been able to secure a loan for the working capital needed to meet the demands of their larger contracts.
Another big challenge is having the time to do it all. Leonard and Michelle have continued to work full time jobs so their time is stretched very thin. Like many small business owners, they manage all aspects of their business – from bookkeeping, to bidding new jobs, to maintaining the equipment. And they have been doing all of this while maintaining their other jobs and learning new skills to build on the strengths they already have.
In spite of all of this, their business keeps growing. Leonard and Michelle credit their success to their ability to work together as a husband and wife. They have also surrounded themselves with a strong network of professionals. They are excited to have the opportunity to grow their business and satisfy customers. They are hoping that Elle's Home Services will continue to change the landscape of Fort Wayne for years to come.
Elle's Home Services is available in the Fort Wayne area for small and large landscaping needs. They can be reached at 260-515-7635.