Applicant Eligibility
Be at least 18 years old
Be a US citizen or lawful permanent resident
Own or intend to establish a for-profit business or non-profit childcare in Northeast Indiana
Have not filed bankruptcy in the previous 24 months
A loan approval is based on your business plan, current ability to repay the loan, credit history, collateral, and the history of the business if already in operation.
Our Loan Products
Microloans may be used for the purchase of furniture, fixtures, supplies, materials, equipment, start-up expenses and/or for working capital.*
Small Business Loan Terms
Loan Amount Range: $5,000 – $50,000
Term: maximum 72 months
Interest: up to 10% fixed
Collateral Value Requirement: 30% of loan request
*These are loan guidelines. If you do not feel you meet all of the requirements, our BDF staff will work with you on the stated requirements and next steps.
How to Apply
Please send an email to CED@mybrightpoint.org with "BDF Small Business Loan" in the subject line. Include business owner name(s), business name, amount requested, email address, and telephone number. If you experience any problems, reach out to our office at (260) 399-4108 or CED@mybrightpoint.org.
Loan Application Fee
Once you've spoken to BDF staff, and been invited to apply, please visit: www.mybrightpoint.org/payment.  The application fee is $75.00. Ensure to provide your full name in the "note" section so we can apply the credit to your loan file. For instructions on how-to, please see below:
Go to: https://mybrightpoint.org/index.php/payment-portal/
Once there, fill in:
Amount:        $75.00                                      
Name:           Your name                                
Payment for: Business loan application fee
Click on "add to cart"
A window will pop up, that looks like this: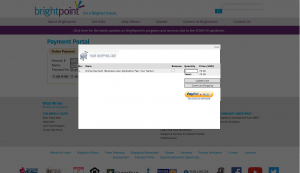 Click on the PayPal button
Either, log into your personal PayPal account and pay using that method or
Click on 'pay with debit/credit card' (highlighted below)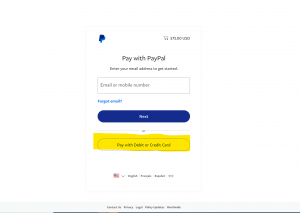 Once you've submitted this payment, and this clears our bank, our fiscal/accounting department will send us the receipt, and we will mark your application fee paid!