Our mission is to create economic opportunities for communities, families, and individuals who lack access to affordable capital and financial services.
Founded in 2010, the Brightpoint Development Fund is a nonprofit organization that provides affordable business loans, financial education, and housing development services in Northeast Indiana. The Brightpoint Development Fund is a U.S. Small Business Administration (SBA) micro lender and a U.S. Department of the Treasury Community Development Financial Institution (CDFI).
Small Business Loans
The Brightpoint Development Fund provides affordable financing for small-business owners looking to grow their business and entrepreneurs who are just starting their business. We provide alternative financing for customers who are unable to borrow from traditional lenders due to past credit problems or are needing only a small amount of capital. Business development services are also provided to assist with business plan writing, registration, marketing, bookkeeping, and other essential activities.
Community Loan Center of Northeast Indiana
Operated by the Brightpoint Development Fund, the Community Loan Center of Northeast Indiana offers affordable small dollar loans to employees whose employers have signed up for the program. There is no direct cost to employers to offer this valuable employee benefit which provides an alternative to payday lenders. 
Personal Financial Foundations
Solid personal financial foundation is a key to financial stability and long-term financial growth. An understanding of how credit and banking services operate can lead to financial confidence and independence. The Brightpoint Development Fund offers personal financial foundations. These offerings include virtual, or in-person are free of charge and open to the public. As part of our mission focus to provide opportunities and the tools to reach your full potential and open up new economic opportunities both personal and professionally.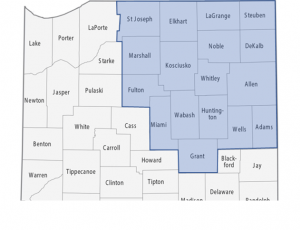 Who We Serve
BDF serves the following Northeast Indiana counties: Adams, Allen, DeKalb, Elkhart, Fulton, Grant, Huntington, Kosciusko, LaGrange, Marshall, Miami, Noble, St. Joseph, Steuben, Wabash, Wells, and Whitley.
Contact Us
227 E Washington Blvd.
Fort Wayne, IN 46802
(260) 399-4108
CED@mybrightpoint.org