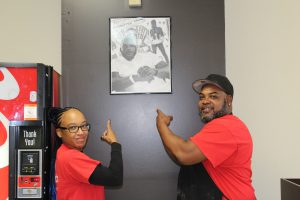 Nate Wright and Nakia Jackson had a dream to open a business before they turned 50. Nate has been in the food industry for over 15 years, and always wanted to own his own restaurant. Nate and Nakia worked hard and opened Zeb's Chicken Shack on July 17, 2021, with a little help from Brightpoint.
The couple worked with Brightpoint Development Fund Coordinator Jessica Walker, who helped guide them through the process of applying for a small business loan. The Brightpoint Development Fund (BDF) was founded in 2010 to create economic opportunities for communities, families, and individuals who lack access to affordable capital and financial services. This mission is accomplished through a variety of programs and services that can be broken down into three categories: business and consumer loans, financial education, and housing development.
Loans are available to entrepreneurs and business owners in Northeast Indiana. Business development services are also provided to assist with a business plan, pitch deck creation, license and registration, marketing, bookkeeping, and other essential activities. Financing is provided as a personal or business loan to assist the borrower in improving his or her financial health and to access mainstream financial resources in the future.
Jessica said that Nakia and Nate were ideal clients because they were super responsive. "You asked them for something, you could expect it would be done ASAP."
She also found a great experience at the restaurant when she went to sample the food. "When we came to eat, they were standing there ready to serve," said Jessica. "Their food quality and taste was nothing but the best!"
Zeb's Chicken Shack offers made to order comfort food like fried chicken, fish, and hush puppies. The restaurant is a family-owned business and their website says, "We look forward to making you part of the family."
Nate believes that customer service is key when you visit the restaurant. He always greets patrons as they walk in so everyone feels welcomed. He exudes positivity and wants to share that with others through his food. "Don't be so sad; it'll all be OK. Come eat some of this fried chicken, and everything will be alright!"
Where does the name Zeb's Chicken Shack come from? Nate named the restaurant in honor of his brother, Zebulon, who passed away in 2019. Nate emphasized that his brother meant the world to him, and that by naming the restaurant after him, his brother gets to live on forever.
When describing how BDF made opening the restaurant possible, Nakia said, "The loan we received has really helped us increase the purchasing of our products and supplies." Nate added, "Brightpoint helped us out tremendously. It just brightened up our day! I really appreciate you guys."
Try Zeb's Chicken Shack for yourself, at 3412 Fairfield Avenue in Fort Wayne at the former Bravas location. Visit zebschickenshack.com for a menu and hours and find them on Facebook, too.
If you have a business that you would like help starting or taking to the next level, visit mybdf.org or call (260) 423-3546, ext. 563 to see if the Brightpoint Development Fund can help you.