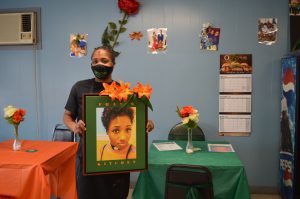 Frances Grant has been cooking and serving up food for a long time. She's from Chicago and operated a food truck there. She moved to Fort Wayne eight years ago in search of a less expensive and safer place to live. "(I was) trying to get my kids out of Chicago away from all the violence," she says.
When she and her family first moved to Fort Wayne, Frances started selling dinners out of her home. She had been working for Midwest Service & Supply and they used to have her cater meals. She saw the positive reaction to her cooking, so she and her husband Joe decided to make a business out of it.
Everything was going well until their daughter Francine, who was back living in Chicago, was killed in a drive-by shooting. "She was an innocent bystander and got shot," says Frances.
In the aftermath of her daughter's death, Frances had trouble staying motivated to run her business. She says Joe basically pushed her back into it saying, "I know you're going through something right now." But he wasn't going to let her sit in her grief forever and not keep going.
"That's how it became 'Fran's Kitchen' because that's my daughter's name. My name's Frances, her name was Francine, but everybody called her Fran," explains Frances. "So that's how we got the name Fran's Kitchen."
Frances says they were in business for maybe a month when Terra Brantley contacted her to do a WANE 15 "Positively Fort Wayne" story. The news coverage increased the traffic at Fran's Kitchen. And then, the pandemic happened. "The business slowed back down a lot," says Frances. "We were still working, but then my funds started to get exhausted."
Frances wanted to continue the business, but they were running out of money. She talked to her friend Nakia Jackson who also owns a restaurant, Zeb's Chicken Shack. Nakia and Nate Wright received a loan from Brightpoint and were featured in the November/December 2021 issue of our newsletter. Nakia told Frances about the help they received and Frances got in touch with Brightpoint.
Frances has big plans for the future, but she says she is going to take her time because she wants to do it right. "My goal is to have multiple Fran's Kitchens because I want everybody saying her name – Fran – that's my daughter."
Fran's Kitchen currently has two locations: 2006 South Hanna Street, which is strictly fast food, and 2000 Brooklyn Avenue which features soul food. "My specialty is greens, yams, dressing – like soul food basically," says Frances. "We call it family food and soul because when you come to our restaurant with your family, you gonna eat good food and listen to good soul music."
Frances says she and Joe are in the process of converting all their operations to the Brooklyn Avenue location. She wants Fran's Kitchen to feel like home. She has it decorated in her daughter's favorite colors, orange and green. When you walk into the restaurant, you see pictures of Frances' family on the walls and you might even hear her say, "Come on in, sit back, eat, and listen to good soul music."
Fran's Kitchen is open Tuesday through Sunday from 12:00 – 6:00 p.m. You can find a menu online at the Facebook page, @franskitchen8, and you can call ahead to place your order for pick up.