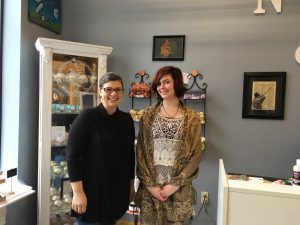 Megan Elizabeth Sutton launched her business in the fall of 2015 with an ambitious plan to open a storefront within six months. As luck would have it, a space opened up at the City Exchange in downtown Fort Wayne, but City Exchange wanted her to be in place by April. The City Exchange is a collection of small storefronts offering retail space for businesses to get a start.
"It was a couple of months ahead of schedule. We had to kind of scramble a little bit," say Megan Elizabeth, "but Brightpoint was really helping in giving us funds to open a store in a really short amount of time."
Her business, the Narwhal and the Manatee, started with a "soft opening" in April and each week more was added until the shelves were full. The business offers skin care and customized bath and body products. "We make all our products by hand, so going from nothing to a whole store's worth of products would have been really difficult to do." Megan Elizabeth is really grateful to the City Exchange for giving her the flexibility to open gradually.
One thing that has been a pleasant surprise is the amount of support that she has gotten from the community. "Very rarely do I come across somebody who doesn't believe in what I'm trying to do or believe that it's possible. Everybody is really encouraging."
She says she believes the right timing has a lot to do with the positive response to her business. "First of all, downtown [Fort Wayne] is on the verge of doing these really great things, and people are really jazzed about it."
Second, she sees the influence of Pinterest and the do-it-yourself mentality. Besides the products that are available, the Narwhal and the Manatee has workshops once a month where you can make your own bath bubbles or fizzies.
She says that if she would have waited a few years, she might have missed for window of opportunity. "It's a little fleeting moment and you have to kind of dig in and go along for the ride. I'm really blessed to have been in the right place at the right time."
Assistance from Brightpoint came along at just the right time, too. Besides providing financing through the Brightpoint Development Fund, staff members are available for technical assistance. Megan Elizabeth says she has appreciated having help from people who only have the success of her business in mind. "I know that I can always call if I have a question or if I'm feeling uncertain about something."
As far as goals for the future, she would like to create a relationship with a local lodging establishment to supply their travel-sized bath products. She admits that one of the stresses of owning a retail business is not knowing from week to week how much money she will make. By having a regular customer like a hotel, the business would benefit from a more consistent form of income.
Another goal is to have her own brick and mortar store with the next year. Megan Elizabeth says she loves being at the City Exchange, but it's really meant as a launching pad for startups. "I want other small businesses to have the same opportunity that I did."
You can currently find the Narwhal and the Manatee at 127 West Wayne Street in Fort Wayne or online at www.thenarwhalandthemanatee.com.