Due to the high demand of financial relief from our communities, we created a specialized COVID-19 Express Loan for current businesses impacted by the outbreak. This loan product is designed to help any business experiencing financial hardships due to COVID-19.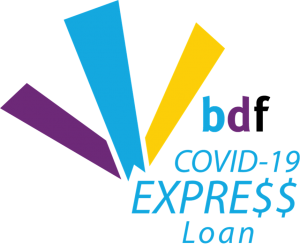 BDF COVID-19 Express Loan
• Up to $20,000
• No cost upfront
• Limited documentation required and streamlined review process
• Immediate deferred payment options available
How to Apply
Submit the BDF COVID-19 Express loan application, along with the required documents found on this page. Once you have completed all documents, you can upload them securely here. You can also reach out to our office at (260) 423-3546 ext 601 or bdf@mybrightpoint.org with questions or alternative submissions.
Required forms List:
BDF COVID-19 Express Loan Application
Credit & Background Check Authorization Form
Statement of Liabilities Form
Cash-flow Projection Statement
Other required documents:
One Personal Utility Bill
Three Months of Personal Bank Statements
Three Months of Business Bank Statements
Two Years of Personal and Business (All Schedules) Tax Returns
Once all documents are completed, you can upload them using the secure upload button below.
For Borrowers who have a loan with Brightpoint Development Fund
Brightpoint Development Fund is prepared to provide loan deferments to our small business loan customers during this critical health and economic period.
Whether you're in hardship now or looking to prevent one, we are offering over-the-phone coaching sessions to explore relief options, help you create your financial plan and connect you to additional resources.
To sign up, contact us at bdf@mybrightpoint.org or call 260.423.3546 ext 601. Thank you for your time and we will update this page and send emails as we have more information.
Stay safe!
~Bdf Team